White-washed towns and miles of coastline, Puglia is home to some of Italy's most beautiful and unique destinations.
Whilst on my year abroad in Italy, I had the opportunity to visit the Puglia (Apulia) region in southern Italy for a week. Puglia is the region that makes up the infamous "heel" of Italy's boot shape, with its coast running along the Adriatic and Ionian seas. Its history of various occupations, including Greek, Turk and Spanish, has given the region a unique and distinctive culture that sets it apart from the rest of Italy. The whitewashed homes are reminiscent of many North African cities, whilst a number of the many dialects have influences from Greek and Albanian. Here's a whistle stop tour of my week in the beautiful south!
Airbnb
My trip to Puglia was the first time I had used Airbnb whilst travelling and it certainly won't be the last. We rented a wonderful flat in Monopoli – a small but charming town, south of Bari. We could not have asked for better accommodation. The host was very welcoming and accommodating and the flat was in excellent condition when we arrived. We had a beautiful terrace with a BBQ (where we later celebrated my 21st birthday) as well as all the necessary kitchen appliances.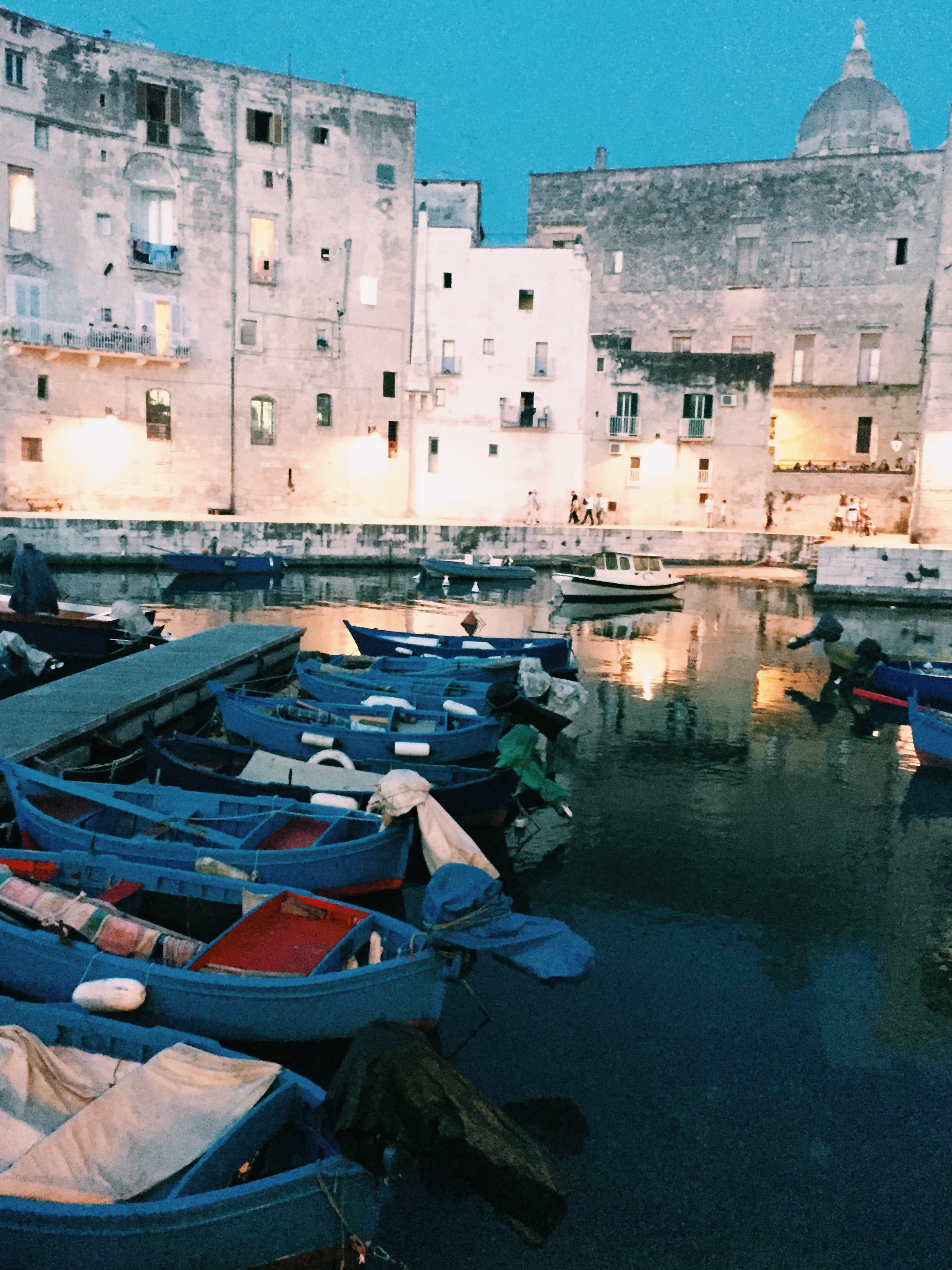 Monopoli
Monopoli itself was a pleasant surprise. We had been told by many Italians that we wouldn't find much to see or do in Monopoli as it it such a small town. However, we really did hit the jackpot. Not only was it perfectly placed for travelling around the rest of the region, but the historical centre was an incredibly quaint and beautiful town with the friendliest locals.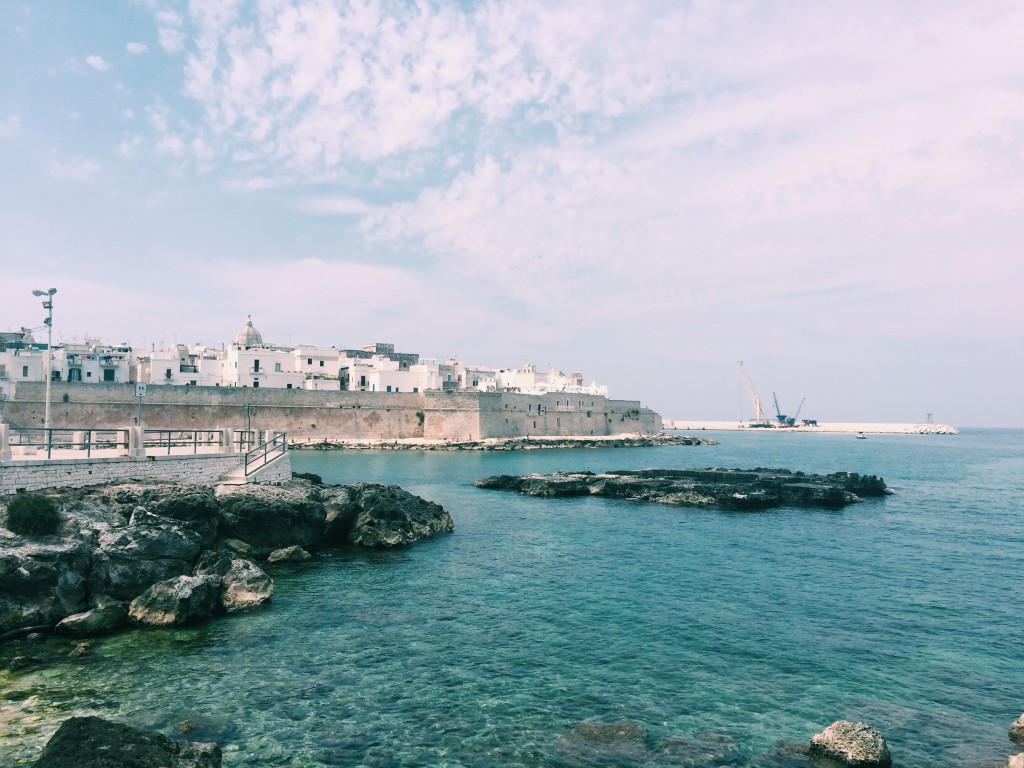 Lecce
Lecce, known as the "Florence of the south" was the next main town we visited. With its stunning Baroque architecture, it was easy to see why it had got this nickname. Unfortunately, it had been raining when we arrived and so it looks a little gloomy in the pictures but it really was impressive (though eerily empty…).
We had lunch at a local family-owned osteria: wine, antipasti, parmigiane and horse meatballs* for around 10€ a person – such a bargain.
(*Horse meat is a popular delicacy in Puglia and so we thought we ought to try it! It was surprisingly tasty.)
After lunch, we continued to explore Lecce's parks and sights. We then went on the hunt for another of Puglia's food traditions – pasticiotti. These are pastries with a thick crust and a variety of fillings including cream, custard and cherry jam. I think they top my list of favourite Italian sweets – so delicious!
Alberobello
Alberobello, though almost impossible to get to without a car, was probably my favourite part of Puglia. This small town is home to the famous trulli houses, prehistoric white circular houses with cone roofs. The drive from Loccorotondo, a nearby town, was beautiful as you gradually saw more and more trulli in and amongst the landscapes.
It felt like we had stumbled into Middle-Earth and it seemed unimaginable that anyone other than a hobbit could live in these houses. Each had an ancient symbol of good luck painted on its roof and we had a little tour in a museum where the meanings of the symbols were explained to us.
We also managed to find a terrace overlooking the whole town, the views were breathtaking! Below was a souvenir shop where a very kind shop-owner allowed us to try practically everything in the shop – from taralli (a typical Puglian snack) and other traditional sweets, to almond licquer.
Polignano a Mare
Then there was Polignano a Mare, a beach town close to Monopoli with excellent beaches. We decided to cycle there, to get a look at the rest of the coast. This was a personal achievement for me having never really ridden a bike before (if you don't count cycling around a park at age 14) and though it was a struggle at times, I made it! When we arrived, we were bowled over by just how blue the sea was.
After grabbing a quick snack, we headed to a quaint little beach area. There was a very different holiday atmosphere in Polignano, with the buzz of Italian visitors. You could tell it was a very popular holiday destination for them.
We ended a day of sunbathing with a well-deserved gelato.
---
Of the regions I have seen in Italy, Puglia is definitely my favourite and I hope to go back soon. Amazing weather, food and, of course, super friendly Italians. It was also a wonderful place to spend my 21st birthday – seeing in the day with an evening at the harbour and ending it with a BBQ. Perfect.