Oh Porto!
In February, I took another solo trip, this time to sunny Porto in Portugal. A vibrant historical city famous for being the home of port wine.
As long time readers may know, I currently work as a trainee solicitor. February marked the end of one of my 6 month seats (or rotations, basically a period of training in a particular department) and I needed a holiday. Having had a wonderful time in Malta travelling solo the year before, I was ready for another solo trip and decided upon Porto. It frequently appeared in lists for top solo destinations and the weather seemed decent for the time of year.
Porto is Portugal's second largest city (after Lisbon) and its historical centre is a UNESCO World Heritage Site. It is also often incorrectly referred to as Oporto as the name of the city in Portuguese is 'o Porto' – I hope the title of this blog post makes sense now 🙂
I booked my holiday as a flight + hotel package via Expedia and was able to get a return flight with Ryanair and 4 nights in the 5* Hotel Infante Sagres for £532, including baggage and transfers, as well as breakfast at the hotel (P.S I will not be flying with Ryanair ever again, however.). I'd definitely recommend booking your holiday this way to get good deals and for convenience, particularly if you are booking short last minute trips.
Day 1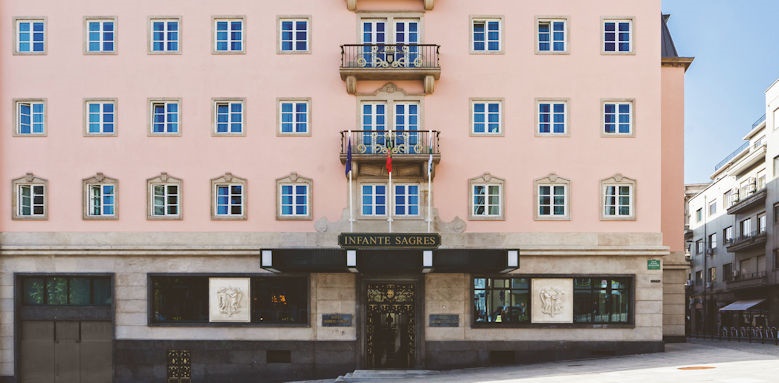 When I arrived at the hotel, I was greeted at my car by the concierge and welcomed at reception. The staff were incredibly friendly and I was given a glass of port wine to drink whilst my room was being prepared. The hotel certainly lived up to its reputation as being the top luxury city centre hotel in Porto. It's housed in a listed building and has decadent heritage interior – it was like stepping back in time.
After freshening up, I decided to take a walk through the city and found myself down by the Douro river. It was really lively with lots of bars and restaurants and musicians performing in the streets. I grabbed an Aperol Spritz and a bite to eat at one of the riverside restaurants and took in the sites.
I booked myself in for dinner that night at the hotel restaurant – the Vogue Cafe. This Vogue-themed restaurant is a popular spot in Porto and also has a DJ in the late evening. I ordered a rack of lamb which was cooked perfectly.
Day 2
The next day I took myself to a tourist shop close to the hotel to enquire about tours and sightseeing around the city. I purchased a €23 deal which included a 2 day city bus tour ticket, a boat trip along the Douro river and a guided tour and wine tasting at a port wine cellar. I was very impressed at how affordable this was and would recommend buying tickets for tours and excursions when you arrive as you really are ripped off online.
The city tour bus offered two routes around the city so I did each on a different day. Porto has a very rich and mixed history which was evident in a lot of the architecture around the city.
After the bus tour, I went along to the river to get the boat cruise that was included in my sightseeing ticket. It was a short trip but was an interesting guided tour of 6 bridges along the river.
I was very peckish after a morning of sightseeing and stopped for lunch at one of the many restaurants along the river. I decided to try a Francesinha – a Porto specialty. It's a sandwich made with wet-cured ham and other meat such as turkey or sausage which is then topped with an egg and covered in melted cheese and the special sauce…it was as filling as it sounds! I'm not sure I even ate half of it, nor am I sure if I would have it again but it was another Porto tradition ticked off the list.
My next stop was to what is probably Porto's main attraction – the wine cellars! I visited Cálem – a well-known winery in Porto which has been producing wine since 1859. The visit started with a tour around the cellars and learning about the different steps for producing different types of wine. It was very educational and if you're a fan of wine, I'd highly recommend this tour. After the tour, we were able to try a range of different wines and put our new-found knowledge of the production of the wines to the test.
That night, I had a quiet night in at the hotel as I had been hit by a horrible cold. I ordered in room service for dinner which didn't disappoint.
Day 3
The following day I took the second city bus tour route around the city and made a couple of stops, including the Serralves Museum of Contemporary Art. The gallery was set in gorgeous gardens and various buildings hosting different exhibitions.
My favourite piece was the Joana Vasconcelos helicopter, adorned with bright pink ostrich feathers, Swarovski crystals and gold leaf. It was incredibly impressive.
For dinner that evening, I stopped by a random local restaurant by the hotel and had a delicious salted cod fish crumble dish. Salted cod fish is another Porto speciality and I would definitely recommend trying some when you visit.
Day 4
The next day, after another fabulous breakfast at the hotel, I took a walk around the city and found myself back at the Douro river.
The weather was gorgeous (albeit a little cold) and the whole atmosphere made me think it would be a great destination for a romantic city break.
As it was my final night, I treated myself to dinner at one of Porto's most famous restaurants Brasão Cervejaria Coliseu. I ordered the "Bife picado com pickles", a dish of beef in a creamy sauce with pickles, and a glass of the restaurant's famous sangria, which did not disappoint. The service in the restaurant was excellent and it also wasn't too expensive.
Day 5
On the morning of my last day I ventured out to do the usual last minute shop for souvenirs. I had one more stop on my list of places to visit and that was the Majestic Café, The Majestic Café, is a stunning Art Nouveau style café, in the city centre. It first opened in the 1920s and has since become a popular spot in the city, earning awards and accolades for its food and coffee.
I had the Primavera Salad which was a wonderfully fresh seafood salad and probably one of my favourite dishes of the trip.
I also couldn't leave without trying their famous french toast, which was easily the best french toast I've ever had. It literally melted in my mouth and the light egg custard complimented the toast perfectly.
---
Overall, Porto was a brilliant city break and I would highly recommend it as a solo trip destination. There is a lot in the city to see and keep you busy for a long weekend. It is also a good, less obvious, destination for a romantic break away.
Great food, lovely people and beautiful settings. It was the perfect mini-break.