A look at some of the makeup and beauty products I have been loving this season. 
I have been slowly and surely developing a makeup obsession in recent times, from fleeky highlighters to bold matte lips. I thought I'd share some of my current favourites.
Eyeshadow
Prior to the end of last year, I never ventured anywhere near eyeshadow. It has always seemed like that elusive unattainable final step in conquering makeup. But since 2016 is the year of the Glo Up, I thought it was time to finally give it a try. I picked up the Sleek Oh So Special (658) palette and Urban Decay's original NAKED palette.
The Sleek palette is absolutely brilliant for beginners like me. The colours are relatively neutral and soft but very pigmented. The only slight issue I've had is fall out when applying the product but other than that I can't  fault it.
The NAKED palette is obviously infamous and I would also recommend this to any other eyeshadow newbies. I've been loving creating soft smoky brown looks with this and use the shimmery colours to highlight the inner corners of my eyes too. The double-ended brush is also brilliant.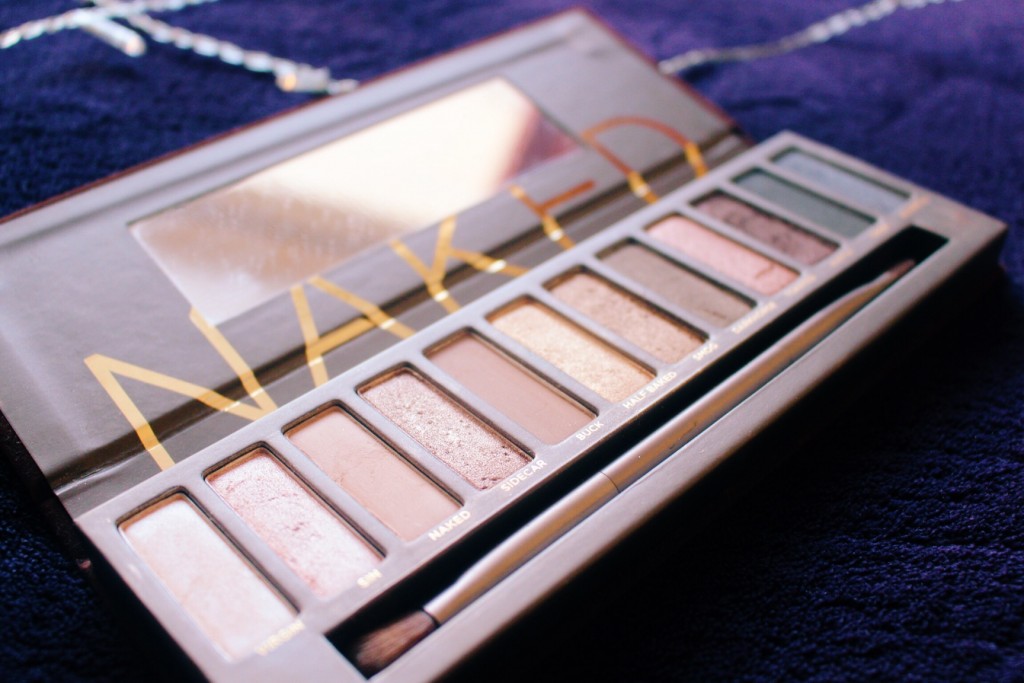 Lip Products
If you have been following me on social media over the last year or so, you will know how much I love Kiko Cosmetics. It was my go-to brand whilst I was studying in Italy and they've been one of my favourites ever since. I'm a huge fan of their Velvet Matte lipsticks and so picked up another 2 shades as well as a lip pencil. The lipsticks I picked up, in colours 611 and 609, dry to a soft matte finish that doesn't leave your lips dry and has great staying power. At just £6.90 a pop, they're also incredible value for money. The lip pencil, in colour 711, is from their Smart Lip Pencil range and is a great dupe for Mac's Brick. Very creamy and blendable too.
I love a dark lip too and Mac's Antique Velvet has been my No.1 this season. It's a gorgeous colour and, much like Kiko's matte lipsticks, it is super moisturising.
(Swatches Top-Bottom: Mac Antique Velvet, Kiko 611, Kiko 609 & Kiko Liner 711 along the side)
Highlighters
I have fallen in love with highlighters and am constantly looking for new products to aid the glow. The first of my favourite highlighters this season is Mac's Extra Dimension Skinfinish in Shaft of Gold. Unfortunately, this product was limited edition and so is no longer on sale. However, you may still be able to find it on eBay etc. I had a rather eventful day trying to get my hands on this when the range was released but it was so worth it. This highlighter gives a beautiful soft golden glow, with a bronzing effect. I apply it with a small fluffy brush to get the most out of it.
Next in my highlighter dream team is…actually an eye shadow! I had seen countless beauty bloggers recommend Kiko's Water Eyeshadow in 208 as a highlighter and, though I was dubious, I thought I ought to give it a go. And I am so glad I did. This eyeshadow creates a super pretty white gold highlight and is best applied with a fan brush. It is also very pigmented so a little goes a long way.
And if there weren't enough Kiko products in this post already…I had to feature their Magnificent Highlighter in colour 01. I actually bought this in late 2014, when I hadn't quite figured out makeup and so I never touched it. Fast forward to now and my current highlighter obsession, I was excited to finally give this product a try. It's a creamy highlighter that comes in a tube/pen with an applicator brush. Once rubbed in, it creates a gorgeous rose gold highlight and is perfect with nude or soft pink lips.
(Swatches Top-Bottom: Kiko Magnificent Highlighter 01, Kiko Water Eyeshadow 208, Mac Shaft of Gold)
Priming & Finishing
I never used to bother with primers until Urban Decay's Oil Control Setting Spray suddenly became resistant to my skin. I had to find new ways to combat oiliness and shine, whilst keeping my makeup intact. My mum recommended Mac's Prep + Prime Face Protect – a sun-shielding primer infused with antioxidants for extra protection. It helps to achieve a soft non-oily look when applying makeup and has been great for keeping my makeup in place (NB: you only need a tiny amount for it to be effective!)
'Baking' or setting my face with a loose setting powder is another step I've added to my makeup routine more recently. I started off using Ben Nye's Luxury Powder in Banana but found this was a little to heavy for me. After shopping around, I settled on Laura Mercier's Translucent Loose Setting Powder and have had amazing results. The powder is brilliant at preventing under eye concealer from creasing and helps keep my makeup looking mattified and flawless. It is hands down my best makeup purchase of the season.
As I mentioned, my all time favourite setting spray no longer works for me so I had to look for alternatives. I now use the Kiko (Yes, Kiko again!) Face Makeup Fixer followed by the NYX Matte Finish Setting Spray and have been able to achieve just as effective results. I find that the two work wonderfully together in holding makeup in place and preventing shine. I can go 12 hour days without having to powder my face when I've used these products – a winning combination.
Fragrances
As well as my Fragrance Box subscriptions, my favourite fragrance this season has been Yves Saint Laurent's Black Opium. It's a feminine sexy scent with notes of black coffee and vanilla – perfect. The packaging is beautiful too.