My Weekend in Scotland
Castles, haggis and fabulous accents. I spent a long weekend in Edinburgh and Glasgow visiting my year abroad pals. 
My university reading week culminated in a 3-day trip to Scotland to visit my friends studying in both Edinburgh and Glasgow. I had never been to Scotland before and with a return flight costing just £35 (Thank you, Ryanair!), I couldn't say no.
Edinburgh
I arrived in Edinburgh on the Friday evening and so didn't see much of the city but managed to fit in a quick drink at Paradise Palms. It was a fun little bar frequented by students, with a great cocktail menu. I also tried my first Scottish delicacy – fried pizza! Frying foods that aren't normally fried e.g. Mars Bars seems to be all the rage in Scotland so I couldn't leave without trying something. The fried pizza was surprisingly tasty and…exactly what it says on the tin.
Saturday was spent exploring the city's main attractions and trying out some of Edinburgh's best eateries. We took a walk around the city's main street, Prince's Street, and the Royal Mile – Edinburgh's main tourist centre. I was struck by how quaint and pretty everything was. It was as if I had stumbled into 18th century London.
We had lunch at Ting Thai Caravan, a Thai street food restaurant known to often have queues along the road of up to an hour. Luckily, we went towards the end of the lunch rush so didn't have to wait. The lunch menu was incredibly inexpensive and the food was brilliant, especially for the price. I had the khao moo daeng – a super tasty dish of barbecue pork on jasmine rice.
Later, we headed to another of Edinburgh's famous food places – Mary's Milk Bar. A cosy little cafe located just below Edinburgh Castle, Mary's Milk Bar serves a range of handmade gelato that Mary makes herself every day. Mary trained at a gelato school in Bologna, Italy – where I did my year abroad – and brought her talents back to Scotland with a 1920s-style milk bar twist. I tried her most popular ice cream flavour, salted caramel, in one of her infamous hot chocolate floats and it was so delicious. (No pictures unfortunately, I ate it too quickly :-)) It was very easy to see why Edinburghians are mad about this place.
That evening, we caught the train to Glasgow, just in time for Halloween!
Glasgow
I love Halloween and this year went for a classic vampire costume. We went to a night called Pressure at SWG3 – one of Glasgow's most popular clubs. It was a brilliant night and will definitely be my most memorable Halloween yet.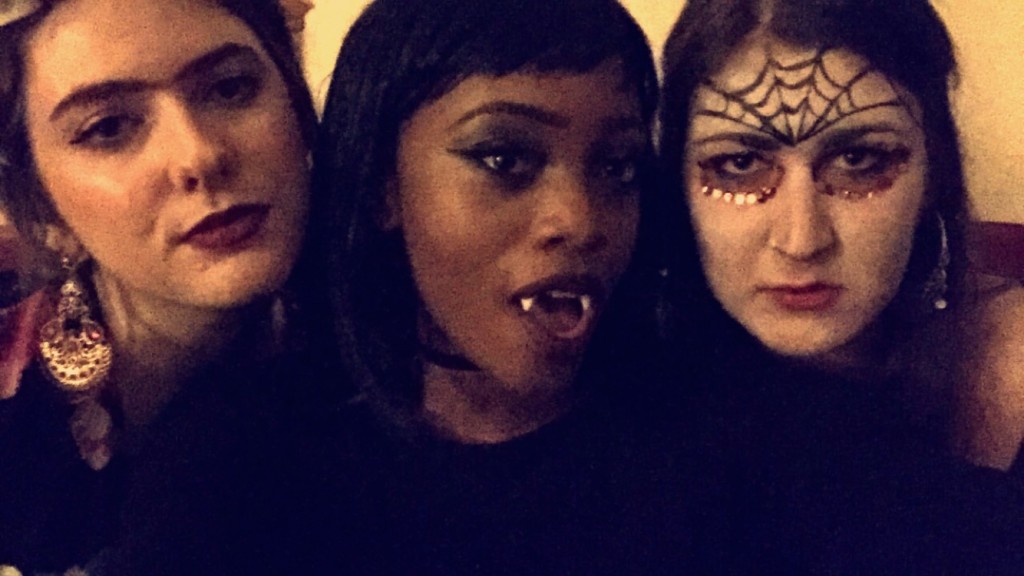 Having woken up rather late the next day, we made it out in the early evening and got a chance to explore Glasgow by night. I was particularly excited at just how much the city's main university looked like Hogwarts. Quidditch-worthy quads, cloisters…the lot.
We grabbed a cider at one of the local bars under the tree lights which felt wonderfully festive. The next morning, we went for brunch where I had the Lebanese breakfast – not very Scottish but wonderful all the same, and exactly what I needed.
We headed back to Edinburgh afterwards (with great sadness) for my last day in Scotland.
Last Day
A must on my to-do list for Scotland was to visit Arthur's Seat – the peak of the hills in Holyrood Park. Situated at the centre of Edinburgh, Arthur's Seat provides incredible views of the city and is relatively easy to climb. We didn't quite make it to the top but got high enough to see some breathtaking panoramic views of the city's skyline.
(NB: Wear suitable shoes! The paths were very rocky and are quite tricky to navigate without shoes with good grip)
After a mini-hike, we took a well-deserved food break and I had my first taste of haggis in the form of a haggis roll from Pie Maker – another of Edinburgh's most popular food places. My first haggis experience was a great one and I picked up a jar to take home with me.
We then stumbled across Choco-Latte – "possibly the best sweet shop in Edinburgh" – a tiny little shop packed from floor to ceiling with sweets, cakes, chocolate and other treats. I was very much in my element and after a while deciding, I settled on a slice of the cookie dough cheesecake which was absolutely gorgeous. If I hadn't been so full from a day of eating, I would have picked up a few more things. The fudge in particular looked delicious.
Once I was done with my souvenir shopping, I made my way back to the airport to catch my evening flight back to London, sad at how quickly the weekend had gone.
Edinburgh University Law Faculty
---
I definitely want to return to Scotland soon and spend some more time exploring the rest of the country and what it has to offer. It was a perfect time of year to go too, not too cold but with a hint of Christmas festivity in the year. If all goes to plan, I may pay a visit to Edinburgh again in December to visit its famous Christmas markets.
Watch this space!