My Barbados Highlights
My recent trip to Barbados is up there as the best family holiday I've been on. Having travelled there for my aunt and uncle's wedding vow renewal, it was inevitably going to be a special trip but the wonderful island far exceeded my expectations. I didn't want this post to be too long as I'm working on my first every vlog* (scary and exciting times) so I settled on sharing my highlights from the trip.
Bajan food
I had to open with probably my favourite thing about Barbados – the food. Macaroni pie, fried flying fish, Chefette (the ultimate fried chicken chain), rice & peas, curry chicken, rum punch…Everything was pure hearty goodness.
We had our first taste on the evening of the day we arrived. We ventured down to Oistins, the fishing village in the south of the island known for its buzzing Fish Fry Fridays. As it was our first meal out, we asked the waitress for her recommendations from the menu. I settled on grilled swordfish, macaroni pie and plantain and what a wonderful introduction to Bajan food it was.
We ate well throughout the holiday and probably drank our weight (volume?!) in rum punch. I also had to make sure I brought back a few bottles of my favourite Aunt May's Bajan Pepper Sauce.
Beaches
The beaches in Bim are quite literally picture perfect. Whilst there was a private beach at our hotel, our favourite beaches were located along Carlisle Bay in the country's capital of Bridgetown.
They were also well-serviced with staff from the nearby restaurants bringing food and drink directly to your sunbed.
Scarred from last year's watersport disaster in Cyprus, I was a little apprehensive to try something this time. After some heavy persuasion, however, I climbed on board a jet ski for the first…and last…time!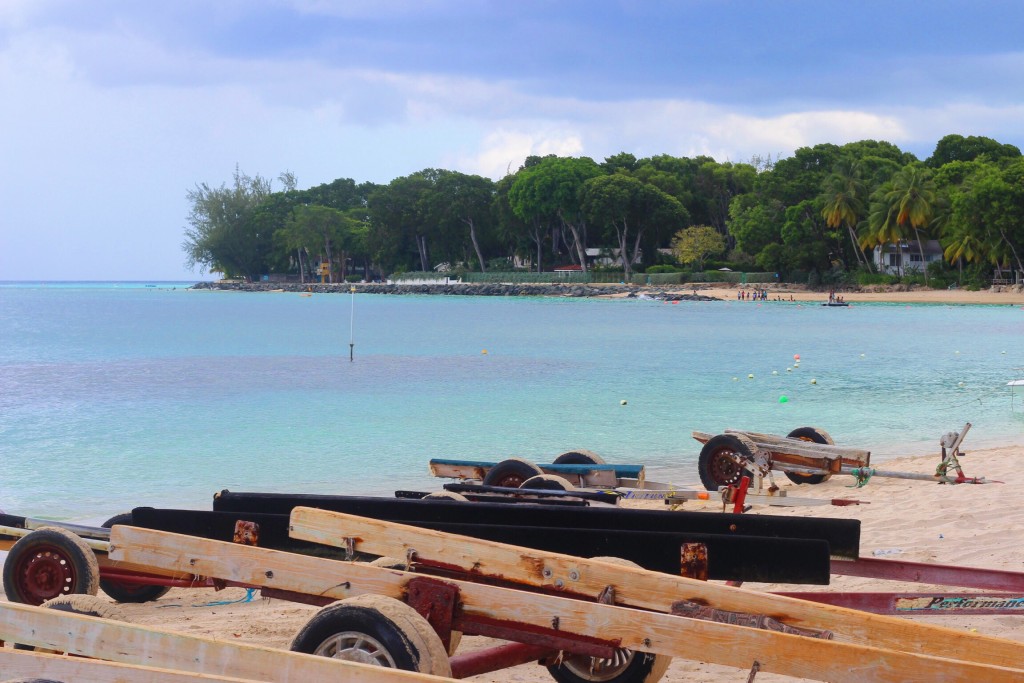 Feeling at home
Other than holidays back to my parents' home countries, this was the first time we had travelled as a family to a country where, to be frank, people looked like us. Holiday experiences in Europe can sometimes be tainted by being stared at and being made to feel uncomfortable or finding yourself being the only black family on an entire beach. In Barbados, we very much felt part of the furniture – although the camera kits and backpacks were perhaps a slight giveaway that we were not!
The locals were friendly and welcoming and always on hand to help when it was obvious we'd lost our way. The atmosphere in Oistins and in rum shops and bars is something quite unmatchable and is hard to put into words until you experience yourself.
Culture
There were two notable things about the culture in Barbados that stood out to me: how laid back everyone was and the 'anything is possible' attitude.
One of the funniest and most memorable examples of this was our first attempt at taking public transport. It was the day we had arrived and we decided to take the bus to Oistins for dinner. It was not the 'bus' we had been expecting but rather a 14-seater mini van already packed to the brim. The driver insisted there was space for the 10 of us and so on we hopped, a little confused and sitting on each other's and other passengers laps.
"That's how we do it in Barbados", he laughed.
Bus rides in Barbados provided endless entertainment and memories and for 2$ a ride, you couldn't go wrong.
Nights at local bars and along St Lawrence's Gap, the islands main strip and popular tourist centre, led to me falling in love with soca music too. I've pretty much had Peter Ram's Good Morning on repeat since I got back. I'm also hoping to play mas at Notting Hill Carnival next year as a fully fledged honorary Bajan. 
It was an amazing trip – perfect for the family with so much to see and experience. We are hoping to go back to the Caribbean next year so do let me know if you have any recommendations for which island to visit next! 
---
*Being quite the perfectionist, if this video doesn't turn out how I'd like it to, it may or may not be uploaded :-).