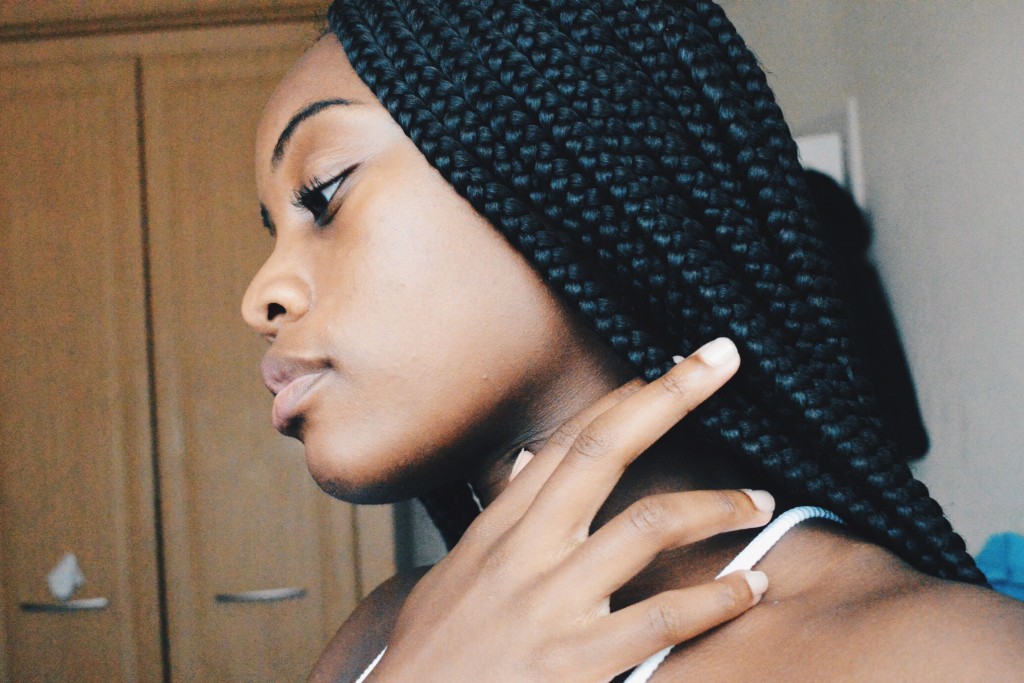 After years of battling problematic skin, I have finally found a regime that works for me.
Disclaimer: I feel I should open this post with a little disclaimer since I am not a medical professional or dermatologist. The following products and methods have worked for me but of course, different things work for different people! Always follow the advice of your doctor and pay attention to the way your body/skin reacts to different things.
When puberty hit around the of age 13/14, I began to notice significant changes in my skin. Prior to this, I had always had very clear unproblematic skin. It was around this time that I began to have intense breakouts of spots resulting in scarring and hyperpigmentation (flat dark marks common amongst people with darker skin).  For anyone else who has suffered from acne or problematic skin, you will know that these changes can have a significant impact on your self-confidence and it's for this reason that I don't have any 'Before' pictures to show. I began to use the Simple range – their facial wash, toner and cleansing moisturiser – as I also have very sensitive skin. This had very little effect on my skin; I would say their products were perhaps too gentle for the issues I was having at the time. I then had a go at Clearasil and the results were disastrous. My skin reacted very badly and I found myself in a worse position than I had started with.
As you can see, finding a successful skincare regime involves a lot of trial and error and for the first 2 years of my struggle with acne I hadn't managed to find anything that worked for me. When I started sixth form at the age of 16, my skin became noticeably worse (as is often the case with more stress). It was around this time that I finally booked an appointment with my GP to see what they could do. Doctors really are your best friend when dealing with skincare issues. We are very lucky that the NHS is free – utilise it! Though, of course, prescriptions are only free up to 16, or 18 if you're in full time education. You may also be entitled to free prescriptions in other circumstances.
I was prescribed Tetralysal (Lymecycline) – an antibiotic used to treat a range of bacterial infections, making it ideal for treating acne. I took one of these pills a day for a month at a time. I was also prescribed Duac Gel – a gel containing benzoyl peroxide (very effective ingredient) to be used once daily in the evening. For me, this was a winning combination. After just a couple of weeks of using them, I saw a significant improvement in my skin. There are, however, a number of side effects, as is the case with a lot of medicines. Tetralysal can cause very dry skin, drowsiness and nausea amongst other things, and Duac can cause skin irritation. (Always read the information leaflets!) As Tetralysal is an antibiotic, too many courses are not advised since your body starts to become immune to its effects. It was for this reason that I was taken off it and only used Duac for some time.
By the time I started university, the breakouts began to crop up again. My GP prescribed me another course of Tetralysal and the cycle repeated itself. I was becoming increasingly frustrated with this and researched into other options. It was then that I came across ProActiv. ProActiv is a very popular skincare brand that has been advocated by a whole host of well-known faces. I picked up their 60 Day Kit: 3 Step System from Boots which includes a Renewing Cleanser, Revitalising Toner and Repairing Treatment. I also bought the Oil Free Moisture moisturiser. Their products are a little pricey but they really are worth it. Another very important thing to note about ProActiv is that it makes your skin worse before it gets better. In the first week of using the 3 Step System, I suffered a terrible breakout…so terrible that I didn't want to leave the house. After about 2 weeks, the breakout cleared and my skin was significantly less oily – another issue I have. I cut down my use of the Renewing Cleanser to avoid my skin becoming to dried out. By week 4, I was only using Step 3 of the system and the Oil Free Moisture. By the end of the 60 days, my skin was genuinely cleared. Of course, I had scars and hyperpigmentation left to deal with but there was not a spot in sight. ProActiv's superstar ingredient – salicylic acid – has incredible acne-combatting properties. Look out for it when looking for new products to try.
Since then, my skin has gradually become clearer and clearer through changing and improving my skincare regime and finding new products.
Cleansing and exfoliating
Every morning I use Garnier's Pure Active Anti-Spot Exfoliating Scrub or their Charcoal Scrub (not pictured here as I've run out!). They both contain salicylic acid (yay) and tiny little microbeads that help to deeply cleanse your skin and leave it looking fresh and revitalised. Both of these products are for oily to spot-prone skin and are great for fading dark marks. 2-3 times a week, I use St Ives' Apricot Scrub. This is an excellent oil-free scrub that gives you a really effective exfoliation. This has been my favourite scrub for years, it gives your skin such a beautiful glow.
In the evening, if I have been wearing makeup, I first remove it using Garnier's Simply Essentials Wipes for Sensitive Skin. These have been the only makeup remover wipes that haven't caused me to breakout. Go, Garnier! I always then wash my face using Dudu Osun African Black Soap. This soap really does work miracles. I only started using it about 4/5 months ago and I haven't looked back. It has been the key to helping dark marks fade and keeping my skin clear.
Moisturising
My daily moisturiser is Garnier's Moisture Match. It is a very light, oil-free mattifying moisturiser with green tea extract, a great anti-oxidant. I recently found an even better equivalent – Garnier's Moisture Protect + which also contains SPF 20. For days where I may have a small breakout or feel like my skin is particularly oily, I go back to using ProActiv's Oil Free Moisture which quickly restores the balance.
Now, I had to put Olay's Complete Lightweight Day Fluid (containing SPF 15) in my daily routine since both my mum and grandma use it! It has been one of my favourite moisturisers for years and is great for sensitive skin. I don't use it as frequently as I used to since it's quite a heavy moisturiser. However, it's starting to get colder and Autumn/Winter means dry skin so this may be my daily choice again.
NB: You may have noticed that I skipped the usual second stage which is toner. Personally, toners have never been very effective for me. 
---
I couldn't be happier that my skin is finally at a stage where I can feel comfortable going out without makeup or taking photos with a bare face. The final stage in my acne-fighting journey was being prescribed the combined contraceptive pill Levest last year. This has helped massively and since then I rarely get a spot…If I do it's usually because of something I've eaten (i.e. chocolate) or not enough water. Your diet is incredibly important for your skin. I also try to avoid lactose-heavy and oily foods as my skin doesn't react well to these.
As I said at the start of this post, successful skincare really is a matter of trial and error. However, if like me, you have oily/acne-prone skin, I would definitely recommend the products listed here. Be patient, tenacious and don't give up!