Easy Seafood Paella
A quick and easy taste of the Mediterranean.
Since I first tried it whilst on holiday in Mallorca several years ago, paella has been one of my favourite dishes. I've experimented with various recipes over the years but this seafood paella definitely tops the list. Made with simple but delicious ingredients, this paella is a family favourite.
*Serves 5*
Ingredients:
Olive oil
1 large onion
2 garlic cloves
100g chorizo sausage
100g frozen peas
2tbsp chopped tomatoes
500g paella rice
1.25l chicken stock
600g frozen seafood mix (Follow defrosting instructions before cooking)
150g unsmoked bacon lardons/pancetta
Lemons for serving
Herbs & Spices:
Salt & pepper
Smoked paprika
Chilli powder
Handful of fresh parsley
(All ingredients were purchased from Asda – my favourite supermarket!)
Method:
In a large pan (or paella dish if you have one), heat around 2 tbsp of olive oil. Chop and fry the garlic and onion. Meanwhile, chop the chorizo into small chunks and to the pan along with the bacon lardons/pancetta. Fry this mixture until the chorizo and bacon are crispy, stirring regularly. You may need to add some more oil.
In the meantime, prepare your chicken stock following the instructions on the packet – I would highly recommend Kallo's Organic Chicken Stock Cubes – and add a generous sprinkling of saffron. Leave to infuse for about 10 minutes.
Add a heaped teaspoon of smoked paprika to the chorizo and bacon mix once crisp, along with the paella rice and half of the chicken stock. Leave to simmer on a medium heat until all the stock has been absorbed, stirring occasionally. This should take about 10 minutes.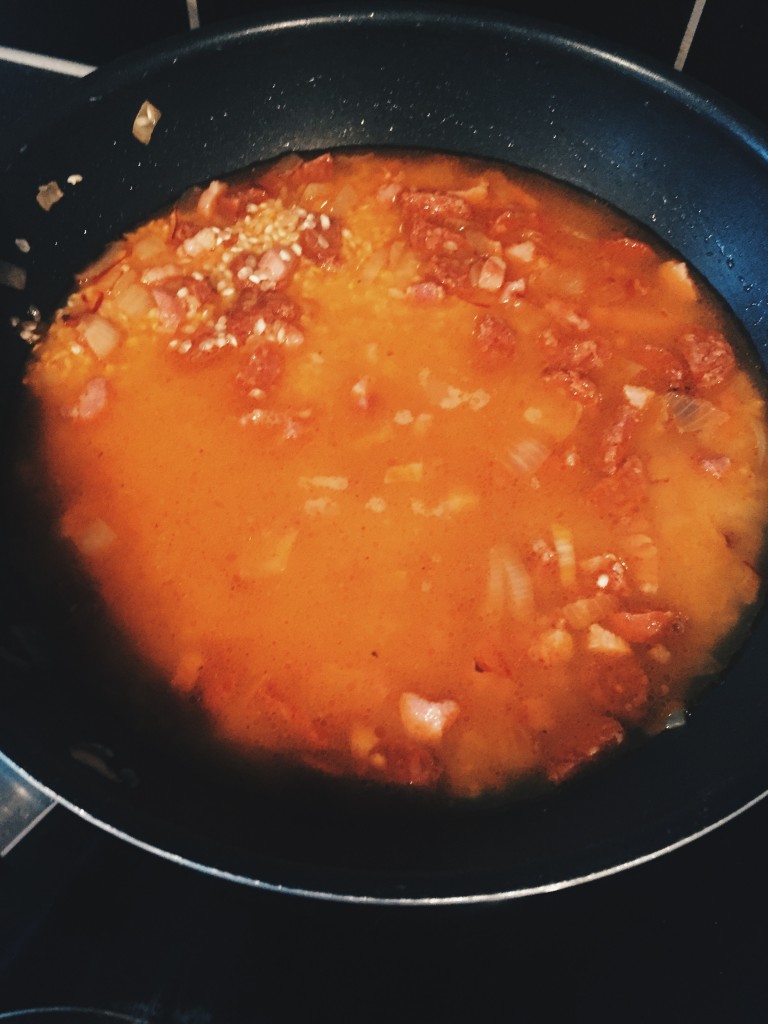 Next, once everything has absorbed the stock, add the rest of the chicken stock to the pan, as well as the frozen peas and seafood mix. Season with salt, pepper, a little chilli powder and more paprika if necessary. Ensure everything is stirred in. Cover and leave to simmer for another 10 minutes. Towards the end of cooking add the chopped tomatoes and stir well.
It is an unwritten paella-making rule that you shouldn't stir it whilst cooking. However, particularly with an electric stove, occasional stirring is necessary to prevent burning. Just don't overdo it!
Serve immediately with lemon wedges and a sprinkle of fresh parsley.