A Cyprus Summer
As the holiday blues set in, I look back on my trip to Paphos, Cyprus…
Every August I go on a summer holiday with my family and this year we ventured to Paphos in Cyprus for a week –  a city on the island's southwestern coast. It has also recently been selected as the European Capital of Culture for 2017. Having been before in 2009, I was looking forward to visiting again a little older, wiser and more appreciative of travelling abroad. We stayed at the Avanti Village Hotel  – a beautiful family-friendly holiday village with excellent facilities. Family suitability was particularly important since I was travelling with younger cousins and siblings too.
The weather in Cyprus, as I'm sure you can guess, is gorgeous in August. I am definitely more accustomed to hotter climates and the 33 degree average temperature was perfect. Though I suffer from heat rash and burn relatively easy for someone with dark skin…(Hello, peeling skin.)
I've picked out a few highlights of the trip, including top places to eat and day trips.
Theo's Restaurant
Theo's is a popular restaurant at Paphos' harbour. It's perfectly situated alongside the harbour's boats, and we were lucky enough to see a wedding taking place on one of the yachts. We went to Theo's for lunch, after being drawn in by the incredibly friendly and accommodating staff. The lunch menu was quite limited but since we were only looking for a light meal, this wasn't too much of a problem. They had a range of sandwiches and salads on offer, which came with great little homemade dressings. Fabulous setting and great food, I would definitely recommend.
Coral Bay Beach
Coral Bay is Paphos' most famous beach and it was the first time I had been. It was a beautiful and clean beach, with white sand and blue sea, as well as a whole range of water activities. I was (unfortunately) convinced by my sister to join her on an inflatable being pulled around by a speed boat at ridiculous speeds. Since I almost met my death, I won't be going on one of those again.
Other than that, it was a very relaxed day. The beach bar was also pretty good and reasonably priced.
Imogen's Inn Taverna
This restaurant often crops up as one of the must-sees in the Paphos district, online and amongst regular Cyprus visitors. It's a family-owned taverna serving typical Greek and Mediterranean food with Middle Eastern influences. The restaurant is in the nearby village of Kathikas in the mountains, located in a quaint little side-street.
We decided on the highly-recommended meze which included dishes such as spinach and feta pie, falafel, pork souvlaki, lamb chops, salads and more. Alongside this, we sampled a local white wine which went excellently with the meal. I can't speak highly enough of just how delicious the food was and we left more than satisfied.
Paphos Archaeological Park
Paphos' archaeological site is a UNESCO World Heritage Site and home to ruins dating back to prehistoric times. The sun here was scorching, and with little to no shade, we physically couldn't manage to stay that long. However, I had a good look at some of the mosaics and ruins of Roman villas that the site is known for.
This is definitely a must for anyone interested in history or architecture.
Troodos Mountains
On our last day, we did a day excursion organised by Eros Tours into the Troodos Mountains and the surrounding areas. The day began with a stop at the Monastery of the Holy Cross, a monastery dating back to 210 AD located in a small mountain village. The monastery itself is no longer active but we were able to have a look around and visit the beautifully decorated church (Unfortunately, we were unable to take photos inside).
The next stop on our journey was the Tomb of Archbishop Makarios III, the first president of Cyprus who died in 1977. The tomb was incredibly moving with a beautiful view of the Troodos Mountains and an impressive statue of the Archbishop. The walls along the path up to the tomb were adorned with contemporary mosaics of Cypriot religious figures.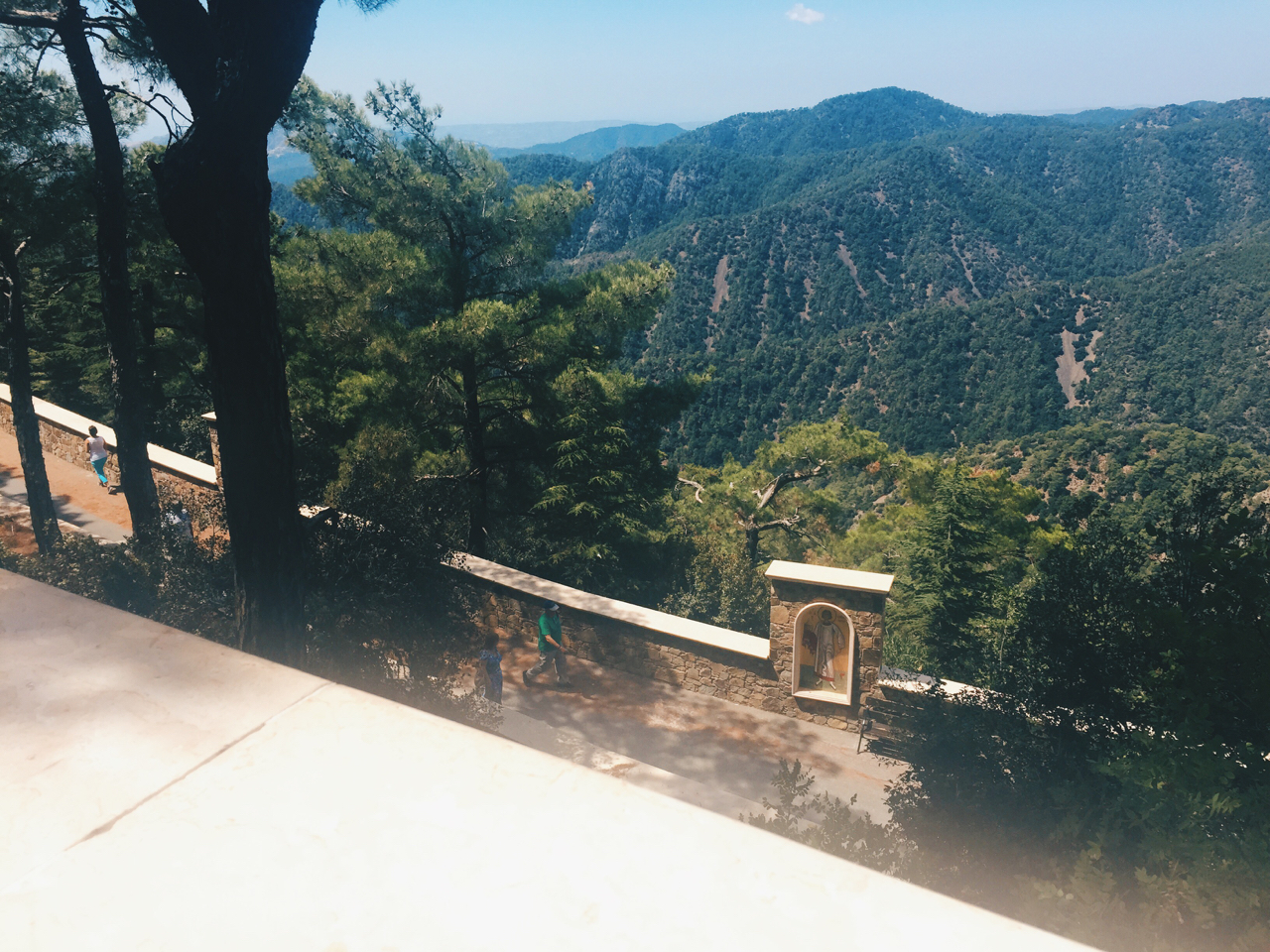 A short drive from the tomb was our next stop, the Kykkos Monastery of Troodos – one of Cyprus' most well-known monasteries. As it is still an active Greek Orthodox monastery, we were required to cover up in some rather stylish purple robes (I wish I had taken a picture of them). Again, we were not allowed to take pictures within the main church but the interior was beautiful – adorned in gold and delicate ornaments.
After a short tour of the monastery, we found a roof terrace with breathtaking views of the mountains.
We had lunch at the single local restaurant in the village where I had probably the BEST moussaka I've ever eaten. This was the last stop of the tour and having started out at 8am, I was exhausted and had a well-deserved nap on the journey back.
---
I left Cyprus tanned, a little heavier (lol) and very refreshed. A week definitely wasn't enough to do and see everything I had hoped to do. It's an incredibly beautiful island and I hope to explore it some more in the future.